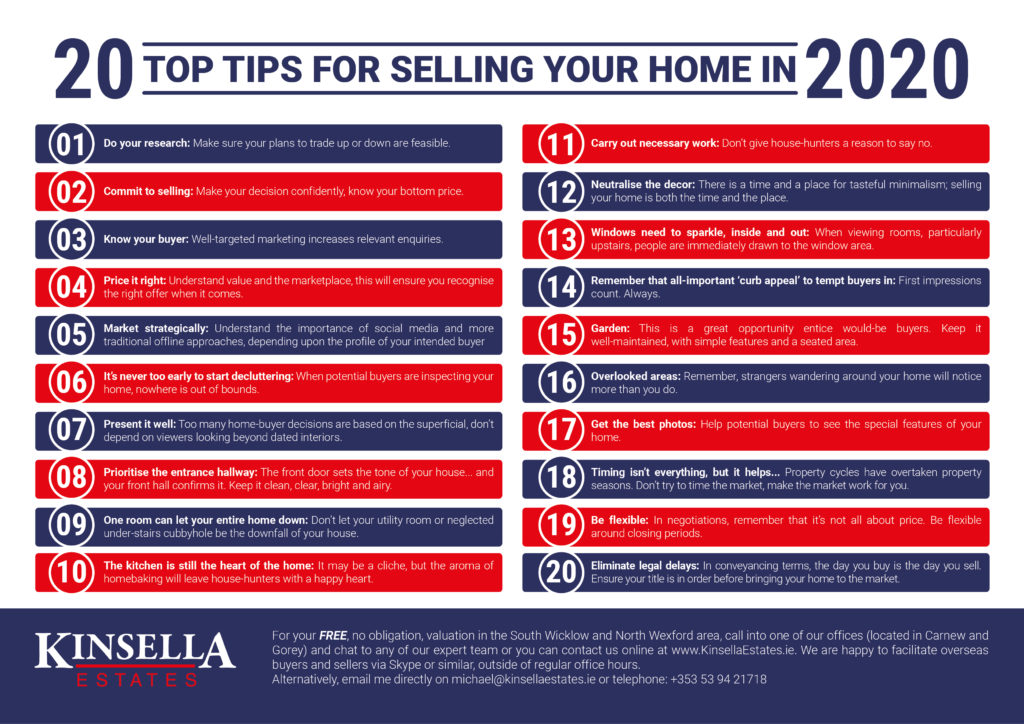 Read back over our 20 Top Tips for Selling your Home in 2020 – Part 1: https://kinsellaestates.ie/20-top-tips-for-selling-your-home-in-2020-part-1/
11. Carry out necessary work
If a property needs a declutter and freshening up (most do), please do it prior to coming to the market. Similarly, small fixes like cupboard doors with loose hinges or dripping taps should be rectified before starting viewings. It is amazing the tiny details that house-hunters focus on when viewing a property. Quality fittings, like new door handles and freshly varnished door/door stops will generate a positive feeling with potential buyers. There is no need to rip out your bathroom, but replacing tired fittings and replacing the toilet seat/shower curtain might just help.

12. Neutralise the decor
Too many homeowners are confused about the difference between a property with character and a property with their own personality stamped all over it. Character is good, excessive personality – usually demonstrated by shocking pink bedrooms or nude art painted in the bathroom – will rarely help home buyers imagine their own future lives in the home. There is a time and a place for tasteful minimalism and selling your home is both the time and the place.

13. Windows need to sparkle – inside and out
When buyers first view a house, the outside is just as important as the inside. If buyers first glance at your house is not an eye catching one (in a good way!), then their opinion will automatically be skewed no matter how lovely the inside of the house is. With sun shining in the windows, whether it be during sunset or sunrise, buyers want to be able to see themselves sitting in this house and looking at the sky as it glows red, orange, blue, pink, it doesn't matter. They want to be able to see it.
14. Remember that all-important 'curb appeal' to tempt buyers in

Curb appeal is basically the attractiveness of the house from the outside. An attractive view from the street can help sell your house and increase its value and the social value of the entire neighbourhood. It also may help save money and detract the wrong type of buyer. Simple ways of doing this are to replace any old light bulbs, clean all windows and any glass panels, mow and edge the lawn, weed the flower beds, sweep the driveway and curb.
15. Your garden as a sales tool

First impressions are vital. Overgrown flower beds, weeds and empty pots can be a turn-off for potential buyers and could decrease the value of your property. The outside of a house is the same as the inside, decluttering is key. A cluttered and neglected lawn may be enough to discourage a potential buyer from ever booking a viewing. You want the entrance to your house, through your front garden to say something. You need an entrance that calls out to buyers from the very start.
16. Overlooked areas

If you have a side window that overlooks an alleyway for example, make sure that the alley way is not collecting rubbish. You may think this is not your job, however, it is just one more thing that could make your house unattractive to a potential buyer.

17. Get the best photos
Now that you have your home looking great, it's time to capture it in the best possible best light. Even great properties need great photographs to make them stand out on-line. The trick here is not to try photograph the entire room in one shot but rather showcase beautiful features that would be lost in a wide room shot. Help potential buyers find the beauty in your home.

18. Timing isn't everything, but it helps!
In the past, property was relatively seasonal with predictably quiet times and busy times; however, since the property crash and as the market recovers, seasons have gone completely out of the window. It is true that investors and ready buyers will buy at any time. Having said that, home-buyers, particularly those with school-going children will generally start looking to the market in March/April time for a summer move. This is a great time to launch a family home on the market to a captive audience.

19. Be flexible
The most frustrating part of selling your home is that you can do everything right and still the right buyer doesn't come along when you need them to. If you find yourself in this position, it is worth re-evaluating the price, presentation and marketing of the property. While it is a cliche to say that you only need one buyer (provided that it is the right buyer!) this is true. Remaining flexible gives your property the best chance of sale.

20. Eliminate legal delays
Finally, if your title deeds are with your mortgage lender, have them delivered to your conveyancing solicitor prior to sale-agreeing your home so that contracts can be prepared and ready for when the right buyer (and the right offer) comes along. This will give your solicitor the opportunity to spot and resolve any legal issues, and essentially to pre-empt any queries that the purchaser's solicitor is likely to raise, before they become a cause for delay.

For your FREE, no obligation, valuation in the South Wicklow and North Wexford area, call into one of our offices (located in Carnew and Gorey) and chat to any of our expert team or you can contact us online at www.KinsellaEstates.ie. We are happy to facilitate overseas buyers and sellers via Skype or similar, outside of regular office hours. Alternatively, email me directly on michael@kinsellaestates.ie or telephone: +353 53 94 21718