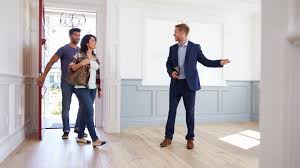 The steps to buying a new home are never easy and it does take some time from the beginning of the process to the end game of your new home! Think of it as a long ladder with quite a few steps but once you start taking them you are on the right path. As experienced estate agents, the team at Kinsella Estates know how important this journey is to you and have compiled some tips on the steps you need to take in order to get the keys to your new home:
Mortgage approval – Unless you are a cash buyer, you will need to have mortgage approval before you start looking for your new home. If you are looking at homes online, that is fine, but stop short of going to viewings until you get that all-important approval from the bank.
Local websites and online portals – One of the first ports of call when buying a new home in the south east is going online to kinsellaestates.ie where you will be met with plenty of lovely homes to catch your eye.  This will allow you to get a real feel for the market locally. Take notes and if you can print off the homes you are interested in. When you are ready to start viewing, contact the Kinsella Estate team to discuss your options.
Appointments – Unlike most estate agencies, Kinsella Estates accommodates virtual reality tours, after hours appointments and weekend viewings – we make ourselves available when you are!
Prepare for your viewings – Take advantage of your time in the property by looking in cupboards, checking out the garden and turning on the electric shower. Take notes of things you like or things you think need work and finally, feel free to ask plenty of questions, what we cannot answer, we will endeavour to find out.
Questions – Don't be shy and ask questions that are bugging you. If you are worried about the garden or perhaps the kitchen needs some refurb, ask the Estate Agent about it. Estate Agents know the home well as they have dealt with the vendor. If there is anything they don't know they will find out about it for you.
Making a bid – Congratulations you have picked your dream home and now you are ready to make a bid which is simple, BUT it doesn't mean you are guaranteed your chosen home. This process can take some time and depending on other prospective buyers it could be a lot of to and froing. You may find this hard and threaten to pull out but nearly every home you will want to buy will go through this arduous process so settle in and buckle up.  Kinsella Estates operates a transparent bidding process to help make this process easier.
Sale agreed – This stage is music to our ears too as we love seeing happy buyers and sellers. However, as great as this stage is, everything isn't organised yet and now is the time to get your solicitor working and be prepared for plenty of paperwork requests too. Believe us when we say it is worth it.
Be patient- Waiting for your new home is a tedious time but there is no other option. From the time a home goes sale agreed it could take another 12 weeks until the property closes. So, get yourself sorted by packing up and preparing for the big move. Change address, change schools if you have kids and take notes on all the things you need to arrange for when you move.
We wish you the very best of luck.
For your FREE, no obligation, valuation in the South Wicklow and North Wexford area, call into one of our offices (located in Carnew and Gorey) and chat to any of our expert team or you can contact us online at kinsellaestates.ie. We are happy to facilitate overseas buyers and sellers via Skype or similar, outside of regular office hours.  Alternatively, email me directly on michael@kinsellaestates.ie or telephone: +353 53 94 21718