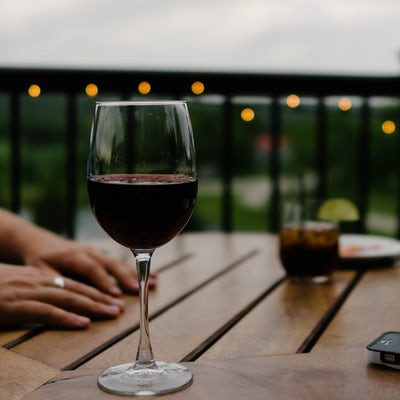 May 1st signals the start of summer and if you have a lovely garden you may be considering making the most of the space and creating an outdoor dining area. Depending on your budget you may be able to go crazy or perhaps you will need to be more creative with your spend ! Either way there are loads of ways to create the best kind of outdoor dining area that fits your lifestyle and vitally, your budget. Al fresco dining is all the rage and it is a perfect way to wind down on the weekends or in the evenings. Here are lots of tips on 'budget friendly' or 'blow the budget' for creating your outdoor dining area of dreams:
Blow the budget!
Let's look at the dream and if you can afford it, great! An outdoor dining area is going to need the right type of flooring and if your budget allows investing in a stoned area is simply beautiful. Pick the place you want your outdoor area to be in and then look at the size as well as how best to shield the area in case the weather is not good. You could surround the area with stoned walls and pave the floor inside and this is the foundation of your outdoor dining area. The flooring should be durable and practical – which stone is and you can choose from many colours and be as creative as you like.
Then you need to look at furniture and there are so many beautiful pieces to buy depending on your personal preference. Think of the way you want to live in the area and some people love large sofas or long dining tables made from granite – which are stylish and clean and not forgetting, chairs with cosy cushions. You can add in heaters, plants and other accessories and you could invest in a large parasol or gazebo for the rainy days so you can still use the space even with the bad weather. If you want to host dinner parties (and with this kind of outdoor dining area – you should) then you will need to have music and an outdoor speaker is a good investment. Don't forget you can still use this space in the winter, if it is secluded enough and fit for the winter months. There are several open fire places you can buy for outdoors too (or build them) that will keep your guests warm in the winter months. Don't forget lighting and you can buy some gorgeous lights for outdoors that can create the most perfect of ambiences outside. For the cooking itself, you can buy a BBQ or get one built in either.
Budget friendly!
To create an outdoor dining space on a budget you can get decking or a simple patio and though you may not be able to seclude the place with a stoned wall, you could line the area with plants or potted flowers. In terms of furniture, a simple bistro style table and chairs is ideal but if you can also invest in some comfy lounge chairs. Lighting can be created with some cheap lighting solutions. If your budget allows you could buy an outdoor heater for the evenings and a cosy rug to pop under the furniture. The nicest of dining areas boast stunning linen and table pieces that don't have to cost a fortune. There are plenty of nice and funky plates, cups and everything else in shops. Climbing plants can add to the privacy and some cushions on chairs and throws/blankets can add a comfort and style to your outdoor dining area. BBQ's are available in all shapes, sizes and budgets and having one away from the dining area works best as it can cause too much smoke however, it depends on the space itself.
Regardless of what you do enjoy your new outdoor dining area!
For your FREE, no obligation, valuation in the South Wicklow and North Wexford area, call into one of our offices (located in Carnew and Gorey) and chat to any of our expert team or you can contact us online at kinsellaestates.ie. We are happy to facilitate overseas buyers and sellers via Skype or similar, outside of regular office hours.  Alternatively, email me directly on michael@kinsellaestates.ie or telephone: +353 53 94 21718