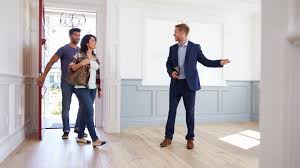 For a vendor to sell their home as quickly as possible there are some things they must do to ensure the house is staged flawlessly and ready for viewings. A good staging gives prospective buyers a great first impression and there are some things prospective buyers should do to get the best out of their viewing time! Here is how to get the best out of your viewing whether you are a seller or a prospective buyer:
Top tips for sellers:
Give your viewer no opportunity to dislike your property prior to getting them inside your home by ensuring everything outside is perfectly kept and clean. Tidy the garden, fix any repairs and power hose the driveway. Then once they enter your property prepare to dazzle them with a super clean house, lovely aromas of candles lighting and well-lit rooms.
Think about your furniture and belongings and consider putting them away during the initial staging process. Most viewers will have a good root around and by reducing the wardrobes contents by up to half you will create an illusion of space; which buyers love! Take away ornaments, furniture that isn't of any real use and things that are easy to put in boxes to allow viewers to vision their own creative home concept.
Prospective buyers will want to dream of entertaining guest and having children perhaps, so leave room for them to imagine and daydream. Too much stuff can turn some people off and remember just because you love something doesn't mean everyone else will too.
Use your friends and ask them to view your property like prospective buyers are. Treat them as client's and show them around the property while leaving them to do their own investigations. Allow them to root around too and take note of their opinions. Don't let their negative opinions effect your mood as this is business after all and your house going for sale is business.
Before viewing times ensure the house is warm is if it in winter, if it is summer leave windows open slightly and let air flow through the house. Make beds to a hotel like quality and do a final clean/check.
Top tips for buyers:
Look at the 'kerb appeal', what are your first impressions of the property? Whatever they are, challenge them! People tend to  buy with their eyes and to make decisions that are formed as they are influenced within seconds of arriving at the property – be aware of this and try to remain detached and logical. The wall outside, the fence, the garden and the door/windows should all be clean, well-maintained and inviting.
Don't be shy, use this opportunity to have a good look around. Check out the wardrobes, storage space and do a few tests on taps or fixtures and fittings. Ensure everything works well and if it doesn't mention it to the estate agent. Look out the windows at the view, pay attention to noise outside and consider the kitchen space – is it ideal for what you need. Pretend to live in the home and put on the kettle or walk around to serve guests. It may seem silly, but you need to consider EVERYTHING!
Don't let some superficial issues influence your decision to buy a new home as a lot of things can be changed or altered. Of course, you want your new home to be perfect but try and imagine making it your dream home. Often a home is not the dream for many years and it takes time, so don't let this stop you buying a great home that you love despite its quirks.
Equally, don't buy a home has too many issues because you adore it. Use your head and be sensible. No one wants to own a property that becomes an endless project or financial burden.
Look at the property again and spend time walking around the neighbourhood, go for a stroll to the shops and consider how long it takes. Chat to neighbours – if possible and though you may not have a viewing booked go back to the area in the evening and see for yourself how it comes to life once everyone is at home from work and school.
If you are considering buying or selling in the South Wicklow and North Wexford areas in 2018, call into one of our offices (located in Carnew and Gorey) and chat to any of our expert team or you can contact us online at kinsellaestates.ie. We are happy to facilitate overseas buyers and sellers via Skype or similar, outside of regular office hours.  Alternatively, email me directly on michael@kinsellaestates.ie or telephone: +353 53 94 21718