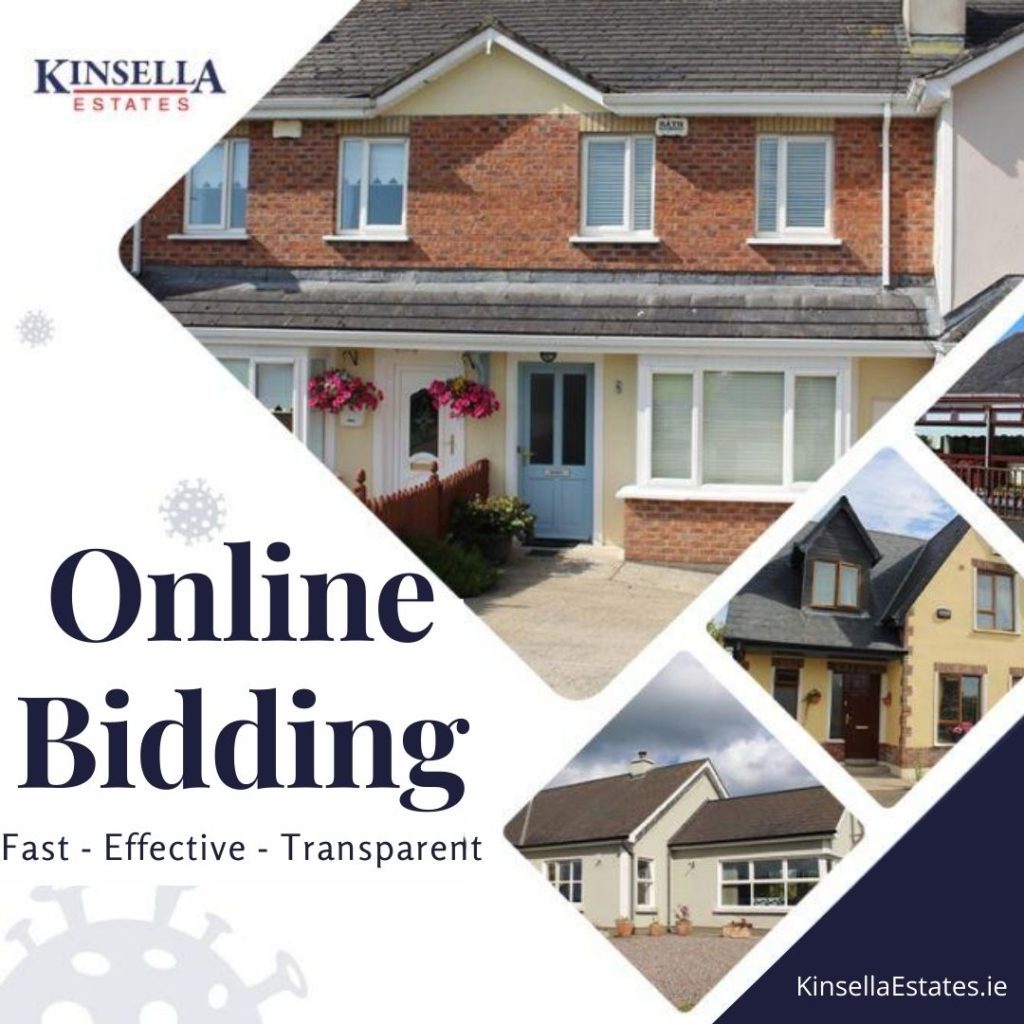 House prices outside of Dublin rose by 4.7% since the lifting of Covid-19 restrictions, according to the most recent MyHome.ie/Davy survey of the two-month period between the end of June and August 2020.
Irish Times wrote that "the hiatus in construction during lockdown is expected to result in fewer homes being built and further supply pressures in the market". Angela Keegan, managing director of MyHome.ie, attributed this house price increase to a combination of people who already have mortgage approval moving to secure new properties, and a shortage of stock.
The findings of the report above match the experiences of our team at Kinsella Estates. Unlike many other estate agencies locally, Kinsella Estates continued to operate virtually throughout the period of shutdown. Our investment in new technologies over the past number of years meant that in addition to photographs, we had 2D models of all properties and videos available for prospective buyers to access. The team maintained contact with sellers and prospective buyers through this period, showing properties virtually and answering questions. We also scheduled in-person viewings as soon as the RICS guidelines advised, following all prescribed safety measures.
Significantly, pent up demand meant that viewing and bidding activity was more robust than the industry had forecast, which is obviously great news for sellers in South Wicklow and North Wexford.
One clear example of this was the recent sale of a three-bed home in Shillelagh. The house itself was of great traditional design, well situated in the village centre; however, it was in need of quite a bit of updating. This is usually the kind of property that takes a bit longer to attract the right buyer, the buyer who sees the potential and is willing to do the work that needs to be done.
The demand to view in-person (after viewing online and seeing a video of the property) was strong, more than 60 people scheduled viewings.
In consultation with the vendor, we decided that online bidding would be the fairest way to proceed for all parties.
The property was successfully sold within a week of online bidding, which meant a total 'on the market' time of three weeks! The asking price was exceeded by 6%, no doubt aided by the ease and transparency of the online bidding process.
Interestingly, this property was sold to a US-based buyer who viewed the property remotely and was able to bid remotely – this type of transaction simply could not have happened in this way just a few short years ago. The world is changing and property has to keep pace. Our team here at Kinsella Estates are proud to be leading the technology charge for sellers in South Wicklow and North Wexford!
For your FREE, no obligation, valuation in the South Wicklow and North Wexford area, call into one of our offices (located in Carnew and Gorey) and chat to any of our expert team or you can contact us online at www.KinsellaEstates.ie. We are happy to facilitate overseas buyers and sellers via Skype or similar, outside of regular office hours. Alternatively, email gorey@kinsellaestates.ie or telephone: +353 53 94 21718