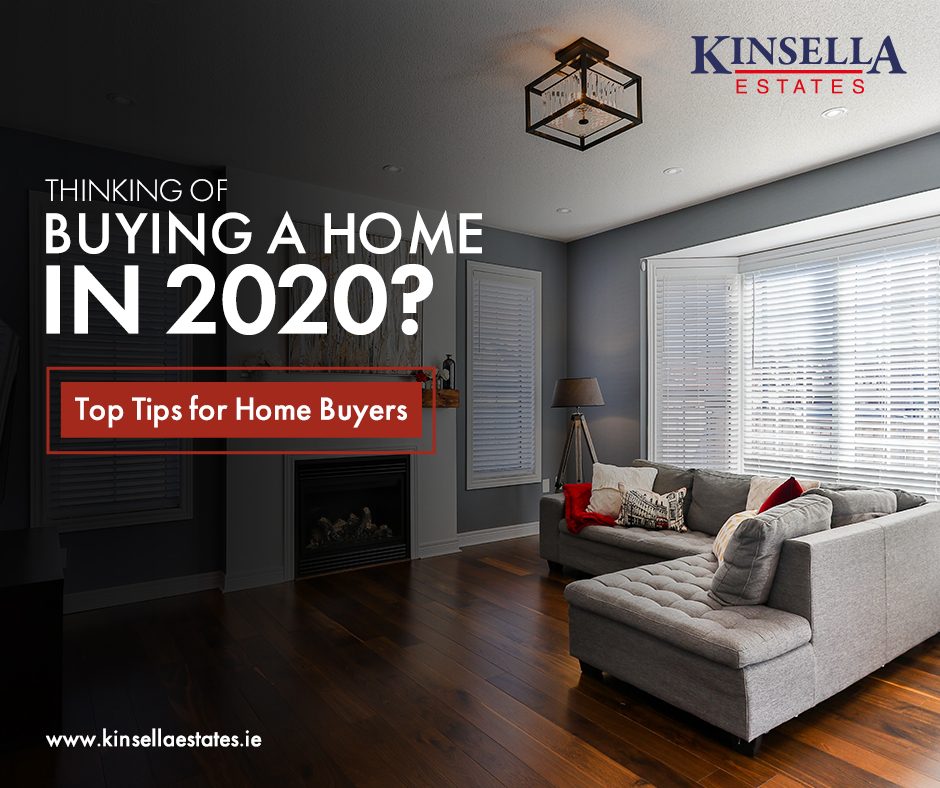 Deciding to buy: Is now the right time for you?
Personal factors vs. market factors
Buying a house can be an exciting yet daunting experience. Many people wait for the market to be 'right', however, the most important factor is not the market, but rather, the personal circumstances of the would-be buyer. You need to ask yourself, honestly, "Am I or are we ready to buy a home now?". The only person who can make that decision is the buyer themselves. You have more freedom in your own home than you would in a rented property, you have control over what colour the walls should be, you could even knock down the walls should you really want to. If this is your time to make a change, don't hesitate to contact the team at Kinsella Estates to help you find your dream house.
Get finances in order – budget, reduce expenses
You need to realistically assess whether or not you are financially capable of buying a home. If not, perhaps now is the right time to put a plan in place to make this possible. Paying a mortgage may seem a lot like paying rent but there are many subtle, yet important, differences. Start by making a budget; have an idea of what you may be willing to pay and from there calculate your mortgage deposit (between 10% and 20%). Begin cutting down on your expenses (takeaway coffees, grocery bills etc), every little bit helps. Always have an extra savings account to go towards moving and legal expenses.
Make mortgage enquiry – If you are not ready now, seek advice and put a plan of action in place to ensure that you are ready in 6, 12 or 24 months
A mortgage is a long term commitment. When planning for a mortgage, you need to be sure that you can afford the payments after purchase, you don't want to be overly burdened by the debt for decades. Shop around various lenders to see which you feel most comfortable with and who is offering the deal or rates that you are happiest with. Always ensure you chat to a mortgage advisor/expert who can steer you in the right direction of what you are looking for.
Research the local property market to gauge price and value
You need to gather information before you make any big decisions about where you want to settle down. The most important way of doing this is speaking to well known estate agents that operate locally (the team at Kinsella Estates is always happy to advise on the Wicklow/Wexford and South Carlow areas). The internet can be a great tool, but only if you know what you are looking for, so make sure that when you are talking to an expert, they can help you narrow down what it is you are looking for. Take a look at what different styles and sizes of homes are selling for in your area so you can have a realistic idea about what is available within budget.
Check availability in your price range 
Once you have narrowed down your budget, work to narrow down your search location and your preferred style. Again, speak to the local estate agent so they can guide you in the right direction, perhaps there are multiple houses in one area within your budget, or they could even open your eyes to a hidden gem that would have never been on your radar. Be sure to get the best professional advice possible – this is not the time for 'bar stool wisdom'.
Get to know your desired neighbourhood
Once you have decided on the neighbourhood you would like to live in, it is time to start getting your bearings. Speaking to locals is the best way to learn about an area. People who have lived there for decades have likely seen shops, amenities, etc. open and shut so they are your best bet when it comes to figuring out the hidden features in any area. Check out local schools, work opportunities, public transport, anything that could make your life a little easier when adjusting to life in your new home.
Define your wishlist, including dealbreakers – your home will likely fall somewhere in between
Figuring out when you want in a home is a big part of choosing the right property. But you must also know your deal breakers. Perhaps you have dogs so a large garden is a must have, this will help you to rule out unsuitable properties. Perhaps you want 3 or more bedrooms and a home office – if so, you are likely ruling out more and more unsuitable homes. The more you narrow down, the closer you get to your dream home.
Conduct virtual/remote property viewings
Before considering buying any house, you must first view it. During these unsettling times, unfortunately going to the house and doing a walk through yourself simply isn't possible. Kinsella Estates have the next best thing. They introduced their virtual house tours back in 2017 to help buyers who live remotely to travel through their desired house without actually stepping inside the door. Contact the team at Kinsella Estates for more information.
Start decluttering your home – whether in your own home or in a rented home, chances are you will benefit from a declutter in advance of packing for your next move
A big part of moving home is packing up your old home. Decluttering can be a huge help when the time comes to bring out the boxes. During the process of decluttering, begin by separating your must haves and your box of "I can bring this with me ONLY if I have space." This will show you that there are a lot of things in your house that you can live without, giving you the chance to toss things that are simply taking up space and filling up those bins.
Line up your property team – buyers' agent, conveyancing solicitor, buying surveyor and use this time to build relationships with local estate agents
Putting together a team of property professionals during the early stages of looking for the right house can be very beneficial in the future. Examples of experts with whom you should be building relationships with are financial advisors, real estate agents, engineers and building contractors. Building relationships means you can be reassured you are getting the best advice, products and services for great prices.
For your FREE, no obligation, valuation in the South Wicklow and North Wexford area, call into one of our offices (located in Carnew and Gorey) and chat to any of our expert team or you can contact us online at www.KinsellaEstates.ie. We are happy to facilitate overseas buyers and sellers via Skype or similar, outside of regular office hours. Alternatively, email me directly on michael@kinsellaestates.ie or telephone: +353 53 94 21718