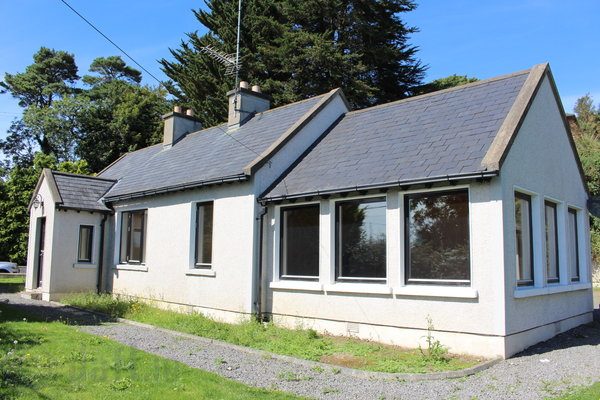 Over the last few years we got to learn a lot more about the property market than ever before.  We have websites like Daft.ie listing most properties for sale around the country together with the asking prices, we have the National Property Price Register telling us achieved sales prices and, most recently, the CSO has started including cash purchases rather than just reporting on mortgaged property transactions.  All of this is helpful, it improves transparency in the marketplace and that's good for everyone, not just buyers and sellers but us agents too!  The only problem is that most of  the statistics are coming from the sale of town houses and apartments.  It is much more difficult for rural homeowners to gauge the value of their home and particularly if their home has lands adjoining.  For rural homeowners thinking of selling, definitely talk to us and we can let you know about recent sales, achieved prices locally and current ready buyers in the market.
For rural properties, often times, there  are fewer interested buyers but this is not necessarily a bad thing.  It can mean less time wasting as only very interested parties tend to view.  Of course, this also means that it is crucial to get the listing, marketing and presentation right from the start.  It's a cliché that there is only one opportunity to make a first impression but it's also true.  A disappointed house-hunter will rarely re-visit or re-consider a property that they have already ruled out just with the promise of a clean-up or painting job.
When I or any of the team here at Kinsella Estates visit a home (before listing it for sale) we will always give feedback on the current presentation and give advice on any changes or cost-effective improvements that are likely to either increase the value of the home or increase the attractiveness of the property to buyers.
When it comes to doing this suggested work, we can always advise on what repairs or maintenance are necessary or those that will generate a return.  It is not about renovating your home prior to sale, this is unlikely to ever make financial sense for homeowners.
Ways to prepare your rural home for sale is to put together area and property maps, good quality photos if you have them although we will always take professional quality images for the sales brochure, and definitely compile a list of contents included in the sale.  We will always position a rural property by giving driving distances to the next largest towns, as this helps potential buyers who might be unfamiliar with the vicinity to decide if the location works for them.  As part of our online listings, Kinsella Estates will accurately pinpoint your location on Google Street View (an interactive satellite map) so that interested buyers can find your property, also, they can get a sense of where it is in relation to neighbouring towns.
In my experience, including proximity to local schools, clubs and other facilities is helpful.  We understand that no-one knows the property as well as the owner so we will listen to what you have to tell us and then package that information for interested viewers.
While it might sound a bit unusual, I advise sellers to put together the most recent utility bills, bin collection information and any other relevant information that a prospective buyer would need to know about the running of the property.   In recent years, buyers are aware of new septic tank regulations and will certainly be looking for evidence of compliance as standard.  Internally, a clutter-free environment is the most important thing.  Neutral decor is generally a safe bet, buyers don't mind an older or dated property provided they can see the potential and the best way to show people potential it to empty it as much as possible.  The practice of clearing your home prior to sale is not just good for presentation, it is also a great way to get a  head start on moving!
Do not underestimate the power of curb appeal; in truth, the first impression is made as the house-hunters turn into your laneway or drive.  With that in mind, keep hedges trimmed, mow lawns and most importantly, remove junk from around the house and sheds.  Potted plants can brighten up any yard so this is an easy way to improve the overall impression.  Also, give the entrance pillars a coat of paint, remove weeds and make the drive accessible for multiple cars, if possible.
Even animal lovers will panic of they are greeted by a pack of barking dogs upon arrival; please ensure that all pets are under control during viewing times.  Similarly, if you have animals in paddocks around the home, do let us know about any special precautions needed when showing people around.
Finally, because rural homes are unique, please do understand that interested buyers are likely to have lots of questions, they will want the view the property more than once and will probably take a bit longer to make a decision.  Remember this is all leading to you finding the right buyer (or letting the right buyer find you and your home!).
For specific queries or to speak with a local property expert about your buying and selling needs in Wexford, Wicklow and surrounding areas, contact myself (Michael), Alan or Eileen Kinsella at kinsellaestates.ie . 
You can email me directly on michael@kinsellaestates.ie or telephone : +353 53 94 21718