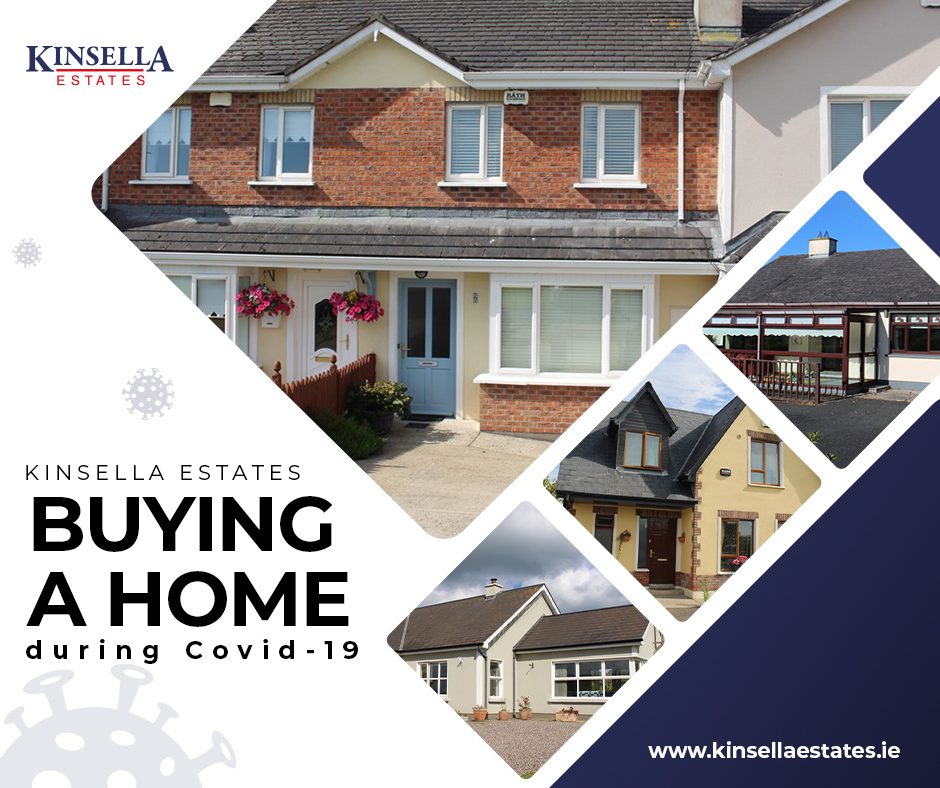 After a tentative reopening of estate agencies nationwide in June, viewing and sales activity has been much more buoyant than anticipated. Within a month of reopening, the media headlines changed from fears of price drops, to reporting on an under-supply of ready homes in many parts of the country.
Here in the South Wicklow and North Wexford region, we are seeing a noticeable spike in new buyer enquiries. In fact, we wrote about the phenomenal rise in remote working and working from home last month after MyHome.ie data revealed a massive increase in property searches for commuter counties. Amongst the most popular search destinations were the counties Wicklow and Wexford, with searches for County Wicklow up 70 percent and searches for County Wexford up a staggering 90 percent! You can read the full article here: https://kinsellaestates.ie/property-viewings-during-covid-19-what-to-expect/
Despite the increased market activity, we understand that it has been a confusing time for home buyers and sellers. The shutdown moved viewings online for months, which was helpful but not ideal. You can find a comprehensive list and explanation of the new safety protocols for property viewings – for both buyers and sellers – on our website here: https://kinsellaestates.ie/kinsella-estates-new-safety-protocols-for-property/
Another free resource for potential home buyers is the following virtual event happening tomorrow evening, 13th August 2020 from 6pm – 7:15pm. According to the Irish Times, this home-buying event "unlocks the secrets of buying a home during Covid-19". Hosted by Bank of Ireland, tomorrow's virtual event will bring together Angela Keegan of MyHome.ie, Brian Vaughan of Bank of Ireland and TV's Dermot Bannon together to help house-hunters across Ireland.
Considering the shutdown and subsequent restrictions imposed on the property industry since the start of the pandemic, many people have been very surprised to find out that property sales in some areas have risen by over 200 percent since March. Angela Keegan of MyHome.ie explains that anyone who was looking to find their new home at the beginning of the year is now "chomping at the bit" to see all the stock that has come to the market in recent weeks. She also explains that viewings have changed completely as protocols include the need to ensure that as many people as possible view properties virtually, as a starting point. With virtual viewings, people can rule themselves in or out. The MyHome.ie chief echoes the experience of the Kinsella Estates team by clarifying that "It would be unusual for someone to complete a full transaction without ever stepping foot in the property, but virtual viewings give them a sense of what's out there".
With all the uncertainty in the world the past few months, one thing is very certain – people are beginning to prioritise quality of life – hence the amount of people moving out to the coast. Bannon says "Having parks nearby made a massive difference to people's experience of lockdown and that will now be high up on a list of priorities. Having a nice place to head out for a stroll, with a selection of shops…will make everyday life better."
Brian Vaughan from Bank of Ireland, talking from a banking perspective, says "There's a lot of demand for mortgage finance, but there are cohorts of potential homeowners who don't have full clarity in relation to their income at the moment. We would still like to hear from those customers and discuss their options. For customers who are ready now, they want to know what they can potentially afford before they start looking". According to Vaughan, customers can still be given information and guidance about approaching their mortgage applications. He says that banks understand that customers could have had a change in circumstances and banks will continue to have confidence and remain loyal to their customers that they will return to their original level of income. That's certainly welcome news.
To register for Bank of Ireland's free virtual home-buyers' event on the evening of August 13th, click here.
For your FREE, no obligation, valuation in the South Wicklow and North Wexford area, call into one of our offices (located in Carnew and Gorey) and chat to any of our expert team or you can contact us online at www.KinsellaEstates.ie. We are happy to facilitate overseas buyers and sellers via Skype or similar, outside of regular office hours.  Alternatively, email gorey@kinsellaestates.ie  or telephone: +353 53 94 21718